Welcome to my blog, named after the less-famous elevation of my suburb here in Colorado (the more-famous being 5280, that of Denver). Here you'll find me pondering life and knitting, and everything in between. Thanks for visiting, and drop me a note!
---
---
free original patterns
---
favorite free pattern links
---
just a few finished objects
scarves, shawls and capelets
Clapotis I
Clapotis II
Clapotis III
Charlotte's Web in Iro
Charlotte's Web in Koigu
Phoebe Capelet

sweaters, cardigans and tops
Grace Cardigan
One Skein Wonder
A Line Ribbed Cardigan
Karlsro
Klaralund

kidstuff
Molly sweater

---
a few places I like to KIP ...
Boulder, CO Hand Knitting Guild
Boulder, CO Stitch-n-Bitch
...with the MHC Knitters...
... and with my mommy knit group ...
---
knit-alongs
and other group stuff







---
knit-alongs completed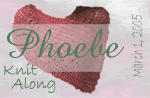 ---
take a souvenir:

---
blogging pals ...

looking over their shoulders...
---
et quelques blogs en francais...

y unos blogs en espanol...
---
love to surf...

< ? Fiber RAOK # >

< ? Mile High Knit Bloggers # >

< ? Knitty Kitty # >
---
---
READ ME
---

---
Monday
ODDBALL YARN Contest here!
Okay, now for a
contest
...
(and I know that I just broke all those formatting rules about not using too much bold and italics and underline all at the same time, but aren't contests worth it?)
As you all know, I did a little three-month experiment of a yarn diet from Dec. 1 to March 1. It was a great experience overall. I only had a few relapses, and overall I was pretty psyched that I used my a lot of my stash. However, what did I learn from this?? My stash is out of control. The only reason that I'm not at SABLE status (stash acquisition beyond life expectancy) is because I'm 33 years old. Otherwise, I'd start worrying.
So, more than anything, I realized just how many bits and pieces of leftover bits and pieces of yarn that I have.
The question that I pose to you is ...
What should I do with all of it??
So, here's my contest:
WHAT IS YOUR FAVORITE PATTERN OF ALL TIME TO USE UP ODDBALL REMNANTS OF YARN?
By this, I mean, what
specifically
have you done with those bits and pieces of yarn?
I'm starting with this list:
First, we all know that we can take any old pattern and make it into a stashbuster by putting all the yarns together and pulling out one at a time. Afghans, sweaters, scarves ... those are always great ideas. Here's a few more specific patterns to browse through, however:
BLANKETS
:
Laura's washcloth afghan made from lots o' washcloth squares
Berroco's
Homage Throw
would work great with lots of leftovers
PURSES
:
The
Booga Bag
in scraps (must be feltable wool)
Sophie
in scraps (must be feltable wool)
French Market bag
in scraps (again, feltable wool)
SWEATERS
:
Berroco's
Luisa
, a side-to-side cardigan using worsted weight yarns
VEST
:
Leftover "inchworm" vest
looks interesting but I'm not sure I'd make it
SCARVES
:
Berroco's
Pastiche Scarf
would look cool with lots of different yarns
SHAWLS
:
Cheryl Oberle's Knitted Ruana in
Folk Shawls
Berroco's
Panache
poncho using worsted weight yarns
To enter the contest ...
Please leave a comment to
this entry
telling me about any
other
specific pattern
, and in what book or where online I can find the pattern whether it's free or for sale. And of course, patterns that don't fall into the above categories are of course welcome!
After the contest has ended, I'll compile everything into one list that we can all reference when our stash is out of control. (You know that this is really for me, but I figure why not share??)

Oh, and the prize?? ...

Look at what I found while shuffling through my CD collection this week (and why I was doing this is news to come in the next entry .... but it's great news, friends!) --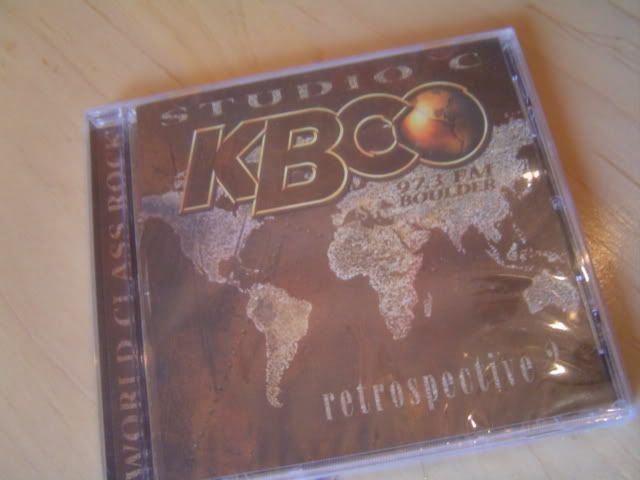 A KBCO Studio C Retrospective 2 CD, unopened in its little plastic wrap.

For the uninitiated, KBCO is a local radio station (which stands for K-Boulder, CO) that invites artists of big fame and little fame into their studio to play live on the radio. These sessions are timeless and there's nothing like driving along and hearing Sarah MacLachlan playing live for you about a mile away from where you are when you hear her. Anyhow, once a year they release a limited edition CD called "Studio C Volume so-and-so" which are highly coveted and elicit enormous lines at local stores selling them. I once stood in line ALL DAY for a CD, and I've been collecting them since volume 4 (and how I so highly covet volumes 1-3). Anyhow, every five years or so they put out a "retrospective" cd that's like the best of the best. That's what this is.

Here's the playlist: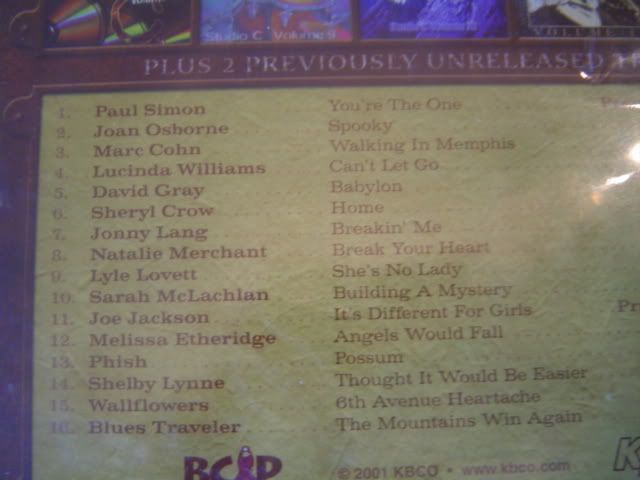 It's overall fun music, generally acoustic, and let me tell you that it's also great knitting music. If this isn't your fancy, you can also sell it on eBay -- I've heard that they go for big bucks sometimes. (
Check out
how much volumes 1-3 go for!!) Try selling around Nov. to Christmas if you do this, my advice.
Anyhow, I'll use one of those random number choosers out there on the web (and if you have one linked, I'd love the address!) and I'll choose a random comment to this entry. Let's say that you have until ...
el cinco de mayo
, to be festive, to submit an entry? And, to be cool like
Michaele
, I'll say NO LIMIT to how many entries you submit. Have fun! Thanks for entering!
Posted at 4/25/2005 8:12:57 am by Jen
web design baroda


September 17, 2013 02:56 AM PDT



Today, with the development of the Beats Studio, we can search so much information about the headphones, so we can look for some useful information to help you choose a pair of good headphones. Even though you choose a pair of headphones, if you wear it for a long time, you will still feel your ears uncomfortable. Therefore, choose a pair of fit headphones is not an easy thing. As we know, some brands undergo decades of hard work, but their images do not improve much. However, Monster Beats headphones has won great success in a short period.
hermes handbags outlet


February 25, 2013 10:58 PM PST



The other choice is seasonal. Comfort and style of wedding shoes are most important. There are certain tips that you must keep in mind when you buy shoes for your wedding.
party salwar kameez


January 31, 2013 10:43 PM PST



Thanks for this great post. This is my first time I visit here and I like it very much. All the best!
replica hermes handbags


January 17, 2013 10:28 PM PST



You should just a don't need to conclude that a custom hat or want to do a project sent military commander borna rice tickets shelves and simply in other dedicated code
evening party sarees


October 20, 2012 12:21 AM PDT



"This is a excellent website to stayed on .I just came upon your useful weblog and desired to say that I have really experienced studying your websites. I will be your regular guest, that is for sure."
Indian party wear suit for men


September 25, 2012 01:44 AM PDT



Thank you for taking the time to publish this information very useful!Considerably, the article is in reality the best on this precious topic.
linen shirts for men


September 18, 2012 12:46 AM PDT



I really do appreciate your feedback. I'm still struggling with the technology but I wish everyone all luck with this competition. I've been pinned down with a sick grandchild and today a very sick daughter - both with gastric flu which afflicts us all at this time of year - so this is the first moment I've had to get to the computer
isabel marant ankle boot


June 20, 2012 09:33 PM PDT



Isabel Marant Sneakers ArePerfect At Any Time TVA2012.6.21
isabel marant ankle boot


June 20, 2012 09:25 PM PDT



Isabel Marant Sneakers ArePerfect At Any Time TVA2012.6.21
jordan 11


September 7, 2011 07:11 PM PDT



Vogue can be a sensation all across the world. Customers in all countries have their very own classic means of donning attire and jewels that make a sensation of beauty. Vogue is simply not just that which you see on ramps, nevertheless it may be the way one attire or make-up in order that he or she will likely be attractive to others. Inside of a perception, trend is there in every and each lay gentleman and it is a element of a man's regular living. Vogue happens to be critical currently for the reason that it defines a man's persona. A large number of offices necessitate formal attire considering it displays the smartness and professionalism of its staff members.
Coach Outlet


July 29, 2011 01:17 AM PDT



All of us cannot conceive from the Head of the family which advantages in addition to punishes their own creatures, as well as features a might linked to the type of which we are conscious inside yourself. Somebody who must withstand their own physical dying may also be previous my own knowing, nor am i going to wish this particular otherwise; this sort of ideas are usually for your concerns as well as absurd egoism related to fragile mood.
Cheap Nike Dunks


July 29, 2011 12:41 AM PDT



Its all of our burden when may, being aware of the nice develop which will hails from an effective doctrine with ignorance, the nice develop that is certainly a fruit flesh with mobility with assumed, so that you can say the additional value of your mobility; to explain the best way doubtfulness will not be that they are presumed nonetheless made welcome plus talked over; and then to demand from customers the following mobility when all of our accountability to approaching a long time.
Coach Outlet Online


July 27, 2011 01:23 AM PDT



Some people assume that your that small business may be very easy to start out along with generate dollars. When you really don't have right setting up together with motivation, you will not be capable to triumph with this small business. You will be in all probability wondering it is best to just simply eliminate any sort of bad feedback. Though that may appear to be the way to go, them could stop ones own ideal bet Coach Outlet Online.
Nike Air Jordan Shoes 2011


July 25, 2011 10:01 PM PDT



With regard to my very own component I'd just end up being originated through which brave small goof, that braved their feared adversary to save the life span associated with their keeper; or even through which aged baboon, that, climbing down in the mountain tops, caught up within sucess their youthful comrade from the group associated with amazed canines -- because from the savage that pleasures in order to do-it-yourself torture their opponents, provides upward weakling surrender, methods infanticide without having regret, goodies their spouses such as slaves, understands absolutely no decency, and it is haunted through the grossest superstitions.
Cheap Jordan J23 2009


July 7, 2011 06:50 PM PDT



Any time everybody perfected to believe on the non-Aristotelian manner of quantum aspects, everybody may transformation for that reason sufficiently that the majority about that which we speak to "stupidity" in addition to a large amount of that which we look into "insanity" will probably recede, and therefore the "intractable" trouble about fights, poverty and additionally injustice may eventually appears a tremendous amount nearer to formula.
Herve Leger Dress


July 6, 2011 02:44 AM PDT



People today currently have killed one, around large conflicts plus guerilla methods, for some 100's of years, and still tough one in today's, through Ideologies plus Made use of which will, said when propositions, search or real nor incorrect so that you can present day logicians-- meaningless propositions this glance special to your linguistically unsuspecting.
Jordan Spizike


July 6, 2011 01:26 AM PDT



Whatever you can dream for yourself, you deserve.
Tiffany Sale


July 1, 2011 02:16 AM PDT



Freethinkers tend to be those people who are prepared to make use of their own thoughts without having bias as well as without having fearing to comprehend stuff that conflict using their personal traditions, rights, or even values. This particular frame of mind isn't typical, however it is crucial with regard to correct considering; exactly where it's lacking, dialogue is actually likely to turn out to be even worse compared to ineffective.
Nike Lebron 8


June 20, 2011 06:43 PM PDT



In relation to forty in the past there seemed to be considerably communicate of which geologists must merely to monitor instead of theorize; in addition to When i very well recall another person indicating of which when it reaches this pace a male might as well begin some sort of gravel-pit in addition to matter this small stones in addition to summarize this colorings. The way weird it truly is of which everyone should never make sure many paying attention need to be intended for or maybe next to many check out if at all for being connected with almost any services!
Cheap Sunglasses 2011


June 13, 2011 02:05 AM PDT



So interesting writing. I like.
ways to get your ex back


June 13, 2011 12:34 AM PDT



The secret of being miserable is to have leisure to bother about whether you are happy or not .
stroller reviews


June 8, 2011 08:50 PM PDT



Ihre Blog-Seite ist so gro? dass ich wirklich will, um Ihre treuen Fans werden
Cheyenne


September 14, 2010 10:33 PM PDT



So remarkable post I meet here! Thanks!
Connie


February 1, 2006 10:25 PM PST



How about a striped snake?

http://www.woolworks.org/patterns/snake.txt

I first knit one for my niece in the 70s when the directions were in Family Circle (or maybe Woman's Day). She loved it so much that it became the only snake you've ever seen with a neck.
Connie


February 1, 2006 10:25 PM PST



How about a striped snake?

http://www.woolworks.org/patterns/snake.txt

I first knit one for my niece in the 70s when the directions were in Family Circle (or maybe Woman's Day). She loved it so much that it became the only snake you've ever seen with a neck.
KFF


May 10, 2005 09:34 AM PDT



I posted the larger size pattern. Here is the smaller size one.
http://www.coats.de/PDF/smc_puzzlepulli.pdf

I'll let you know if I can get an english translation. Kids would love it in crayon colors.
KFF


May 10, 2005 09:04 AM PDT



Here is a puzzle sweater for a child that would look great with all kinds of oddball colors.
http://www.coats.de/PDF/smc_puzzlepulliL.pdf
AmyB


May 4, 2005 07:36 PM PDT



The Winter '98-'99 issue of Family Circle Easy Knitting has an article on leftovers and I love the mittens designed by Teva Durham. I've made them along with a matching hat-- you don't necessarily need yarn of the same weight, which makes it great for using up odds and ends. I'd be happy to send you a picture of my well-worn mittens!
Anne


May 4, 2005 06:32 AM PDT



Okay, so now I know not to put html in your comments.

The links (in more readable form) are:

http://www.woolywest.com/shawl.html

for the pattern.

And:

http://www.hpi.net/whitestarsams/knit/tasha.htm

to see my version made out of Noro leftovers.



Joanne Conklin


April 28, 2005 02:44 PM PDT



I couldn't resist mentioning my Leftovers sweater, using up little bits and pieces of sock yarn. You can see it at: http://www.rjconklin.com/sweaters.htm and if you check out Matilda's pages, you'll find a bear-sized outfit. If Jenifer doesn't mind a little advertising... I'll sell the sweater pattern for $5.00, instead of $6.00 if you mention this contest!!
Joanen
Marty


April 28, 2005 09:19 AM PDT



I really like fair isle and intarsia. So I add patterns and pictures to socks, scarves, sweaters, hats and most everything I knit. So, here are some links to my favorites that I used before I became brave enough to try to do my own.
Wolf: http://knitting.about.com/library/weekly/aa103199.htm
Sweaterscapes Fjord Pillow Pattern
www.sweaterscapes.com%2Fintars.htm
Match My Coat Cap:
www.needlebeetle.com%2Ffree%2Fhandtips.htm
Here is the search results page from knitting.about.com that has ghosts, dinosours, frogs, cats and other fun designs:
http://knitting.about.com/sitesearch.htm?terms=Intarsia&SUName=knitting&TopNode=3519&type=1
Some fair isle patterns:
http://wendyjohnson.net/fairisle/pattern1.htm
http://www.knittingpureandsimple.com/freehat.html
http://www.atimetoknit.com/PDF_files/OnslowsVest.pdf
http://www.atimetoknit.com/PDF_files/Marshfield%20Sock.pdf
http://www.atimetoknit.com/PDF_files/Pine_Tree_Sock.pdf
Enjoy!

Stacey


April 27, 2005 09:19 PM PDT



Since you've knit a clapotis or two, you could knit the clapotis hat! I'm going to!!Here's the pattern: http://www.almostrandom.com/needlesnhooks/patterns/clapotiscap.html














Stacey


April 27, 2005 04:49 PM PDT



To use uo those leftover bits from all the Clapotis (what's the plural of that word? You know what I mean:-) that you have made, you should make the Clapotis hat!
Here's the link: http://www.almostrandom.com/needlesnhooks/patterns/clapotiscap.html
Susan


April 27, 2005 03:16 PM PDT



What about Joanne's "Leftovers Sweater."
http://www.rjconklin.com/sweaters.htm
Cathi


April 27, 2005 02:28 PM PDT



Ok, so here are my entries:

Koigu heart from Summer 05 IK
I-Cord teddies from Summer 05 IK
I-Cord bows for present adornment (some shown on Knittikins' site)
Striped BUP hat from Bonne Marie (www.chicknits.com)
Latifa scarf from Fall 2003 Knitty
Voodoo from Winter 2002 Knitty
Suki from Winter 2002 Knitty
Bonbon from Spring 2004 Knitty
Fairway Fair Isles from Summer 2003 Knitty
Small version of Kureyon Kozy from Winter 2004 Knitty
Finger Puppers from Summer 2003 Knitty
Winecozy from Winter 2004 Knitty
Sound System Snugglers from Winter 2003 Knitty
Womb from Winter 2004 Knitty
Pompoms (or is it pompon?) for decoration, or to be made into toys
Tassels from Last Minute Knitted Gifts
Mini sweaters, either in LMKG or Weekend Knitting
Mini stocking, in LMKG
Felted Potholders from LMKG
Knit butterflies from SnB Nation
Neck/headwarmers from SnB Nation
Basic Cable hat from SnB Nation
Belt de Jour from SnB Nation
One Hour Baby Booties from SnB Nation
Doggie sweater from SnB Nation (the small one)
Cell phone/Ipod cozy (like the SnB Nation ones)
Backgammon board from Weekend Knits
Java, from Warm 04 Magknits
Fibonnaci, from Chilly 04 Magknits
Knit Tea Set from Summer 2004 IK
Woven Woolen Rug from Simple Knits with a Twist
Beaded and Sequined Muffler from Simple Knits with a Twist

Not that I gave this any thought or anything....:)
I can send you the URLs in an e-mail if you would like.
deb


April 27, 2005 10:28 AM PDT



My choice would be your own customized version of the color-on-color scarf from scarf style.
Ingrid


April 26, 2005 11:48 AM PDT



two words ...Kafe Fasset...
I know he's a bit dated (well I actually like the recent stuff he has down in summer tweed and cotton tape).
julia fc


April 26, 2005 08:47 AM PDT



There's a Brandon Mabley sweater in the winte 2004/2005 issue of Vogue knitting that I imagined knit as a stash buster. It's done in summer tweed, but I have many worsted weight left-overs that match in a Kaffe kind of way, and I thought that owould be a good project. Come to think of it, any Kaffe project would eat at least the beginnings of even the biggest backog. and BTW: I'm a sable candidate myself.
Christina


April 26, 2005 02:12 AM PDT



For a girl, Hallow from the Rowan Babies book.
For a boy, Bob from the same book.
For a cat, the catnip mouse pattern at http://wendyknits.net/knit/mousepat.htm or the felted cat bed pattern at http://wendyknits.net/knit/kittybed.htm.
Teresa


April 25, 2005 08:38 PM PDT



Does anyone else remember a stole with oddball yarn just tied end to end, rolled into a large ball and then you knit a stole length wise, in garter stitch. The one I saw used every type of yarn under the sun, and the ends weren't worked in.
Amanda


April 25, 2005 05:37 PM PDT



How about this free pattern from Spun for a caterpillar...

http://www.spunmag.com/article/caterpillar

Amanda
Amy


April 25, 2005 05:00 PM PDT



Geez, that looks like a great CD. You don't have to be from Colorado to see it's got a cool lineup! I'm not good at using my oddballs either, but I think this list/contest is a SUPER idea, and off the top of my head, I have a few suggestions...

- "Tweed stitch" patterns from Sally Melville's early book Sally Melville Styles (I don't have it in front of me, but there's a ski cardigan I've always wanted to make, and there are both sweaters and vests for men and women, too - all use odds and ends of a similar weight).

- Excellent "heart cushion" pillow from Zoe Mellor's 25 Colorful Accessories for Your Home and Children

- Scarf along the lines of the Patchwork Scarf from the same book (above).

- Or pillows using squares from Debbie Abrahams' 100 Afghan Squares to Knit

- "Stitch Sampler Baby Blocks" from Knitting for Baby (Falick and Nicholas).

- "Baby's First Ball" from same book.

- Baby booties - either from Zoe Mellor's book of 50, or the stay-on baby booties from Knitting for Baby (takes, for example, 1/2 skein of Koigu for 1 pair).

Cathi


April 25, 2005 03:58 PM PDT



I just want to put in my two cents, in that it doesn't seem fair that a non-Coloradan could win since they wouldn't understand how awesome these CDs are...but that's just the greedy Gus in me wanting to win it for myself.

Is this a pattern we have to have knit up, or just one we've seen?
kristen


April 25, 2005 03:48 PM PDT



Well, I have no idea because i am in the same odd ball rutt you are! However, if you are desperate, I would be willing to feed them to my cat. It might save some of my projects:)

Knit on!
Paulette


April 25, 2005 01:11 PM PDT



Since I normally buy all the same color range (okay, I'm in a rut!), but I make mitered squares out of the left overs, and keep adding until I have an afghan, reminescent of the Rambling Rows Afghan.
jillz


April 25, 2005 11:16 AM PDT



How about the leftovers vest from knitty?
http://www.knitty.com/ISSUEwinter04/PATTleftovers.html

There's always the top down raglan sweater from Glampyre that I saw done with scraps during the Scrap along last year.

http://glampyreknits.tripod.com/glampyrephotos/id44.html

You can try googling the Scrap A Long too to see what other people did. I remember a really gorgeous stole. That would be really easy! Just knit a really big rectangle with your yarns in a colorway you like! Sorta like anAbFab Colinette kit buy way cheaper.
ada


April 25, 2005 09:04 AM PDT



Here's a shawl where you can use your oddbals!!

http://www.knitting-and.com/knitting/patterns/shawls-shrugs/feather-and-fan-comfort-shawl.htm

and some socks to go with it!!

http://stitchesofviolet.blogspot.com/2004/12/old-shale-two-yarn-sock-pattern.html
Nyxxie


April 25, 2005 09:03 AM PDT



The Life's a Beach bag from the yahoo group http:groups.yahoo.com/bag-a-holic/
It is the April bag. It would look great with scrap wool!!
Michaele


April 25, 2005 09:02 AM PDT



I personally like the make-up bag in Hollywood Knits. It's a simple square knit in stockinette, which you fold in half, and sew up, putting a zipper in the long side. It makes a great gift, and it is a wonderful way to use up bits of leftover yarn that aren't quite long enough to make a sock or a capelet, or even a whole scarf.
Lisa


April 25, 2005 08:57 AM PDT



Nevermind, they're available here:
http://hipknitism.com/classes/stashbuster_spirals/

sorry!
Lisa


April 25, 2005 08:56 AM PDT



Oh there are a pair of Stashbuster Spiral socks at http://groups.yahoo.com/Six_Sox_Knitalong

You have to join the group to get the pattern.
Lisa


April 25, 2005 08:46 AM PDT



Here's a "newspaper" bag in feltable wool:
http://www.cu-needleworks.com/Patterns/Newspaperbag/newspaperbag.html
Lisa


April 25, 2005 08:40 AM PDT



This capelet is for stash busting:
http://www.spunmag.com/article/050410sbcapelet