Welcome to my blog, named after the less-famous elevation of my suburb here in Colorado (the more-famous being 5280, that of Denver). Here you'll find me pondering life and knitting, and everything in between. Thanks for visiting, and drop me a note!
---
---
free original patterns
---
favorite free pattern links
---
just a few finished objects
scarves, shawls and capelets
Clapotis I
Clapotis II
Clapotis III
Charlotte's Web in Iro
Charlotte's Web in Koigu
Phoebe Capelet

sweaters, cardigans and tops
Grace Cardigan
One Skein Wonder
A Line Ribbed Cardigan
Karlsro
Klaralund

kidstuff
Molly sweater

---
a few places I like to KIP ...
Boulder, CO Hand Knitting Guild
Boulder, CO Stitch-n-Bitch
...with the MHC Knitters...
... and with my mommy knit group ...
---
knit-alongs
and other group stuff







---
knit-alongs completed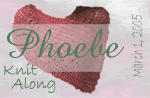 ---
take a souvenir:

---
blogging pals ...

looking over their shoulders...
---
et quelques blogs en francais...

y unos blogs en espanol...
---
love to surf...

< ? Fiber RAOK # >

< ? Mile High Knit Bloggers # >

< ? Knitty Kitty # >
---
---
READ ME
---

---
Sunday
Come visit me at my new blogger home!
Posted at 6/25/2006 9:38:30 pm by Jen
Permalink
Monday
In which Jenifer dives into no-knitting-along madness
What kind of madness is no-knitting-along, you ask?
How about
stitch marker mania
...

For which I made these: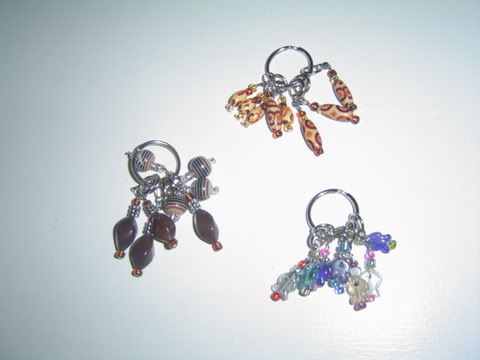 And how about the knitblogger's
CD Swap
craze ...
For which I made these: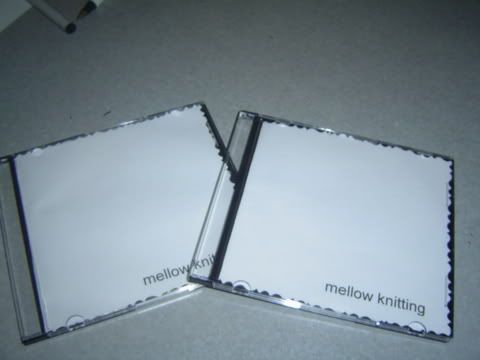 (See,
MHC Knitters
, I go overboard whenever I get a chance.) I actually spiffed up the playlist, to include mostly knitting-related music. I'll try to list the playlist for fun some day.
I don't quite know why I'm so smitten with non-knitting-alongs right now ... I just am.
Posted at 7/18/2005 6:20:47 am by Jen
Permalink
Sunday
FO Report: Chunky Cap-Sleeved Top
FO Report:
Chunky Cap-Sleeved Top
Designer:
Teva Durham
Pattern Source:
Vogue On The Go: Chunky Knits
Yarn:
Triple strands of Lion Brand Cotton-Ease in Sugarplum (3 balls total)
Needle Size:
US 15
Gauge:
8 sts = 4"

Date Completed:
July 2005
Recipient:
me (of course)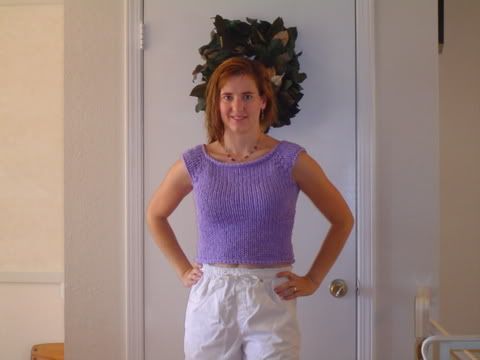 Just when I thought the One Skein Wonder couldn't be beat ... I ran across this cap sleeved top by Teva Durham in the Chunky Knits book. After finishing up
that cable cardigan
in matching yarn, I had three balls left over ... but one of them was a different dye lot than the others. I really wanted to make some sort of a top to go under the cardigan, but I couldn't decide how to deal with the uneven dye lots (they showed).
Enter Teva Durham's little top, which took 200 yards of a single strand of super bulky yarn ... and I decided to combine all three yarns together to fix up that dye lot problem. It worked! I like this top a lot, and it really took one evening to finish (started before a movie, knit through the movie, and cast off while watching Johnny Deep on Jay Leno ... what a great knit). One minor caveat would be the extra short hemline ... all the better to show off my new belly button ring (and we'll just ignore that non-Pilates tummy). I literally had a few feet of yarn leftover, so I couldn't have made it any longer.
Does this pattern look familiar, by the way? You might want to glance at
Kathy's
non-chunky version(s) here, so graciously and grumpily called the
Tivoli T-shirt
. (Don't we just love Kathy for giving us that pattern?) Without the mismatching dyelots, this yarn was destined to become a Tivoli itself.
I've actually just washed and blocked the top, and I stretched it out super long and I'm hoping to add an inch or so. If that happens, I'm sure this will pattern will become a favorite.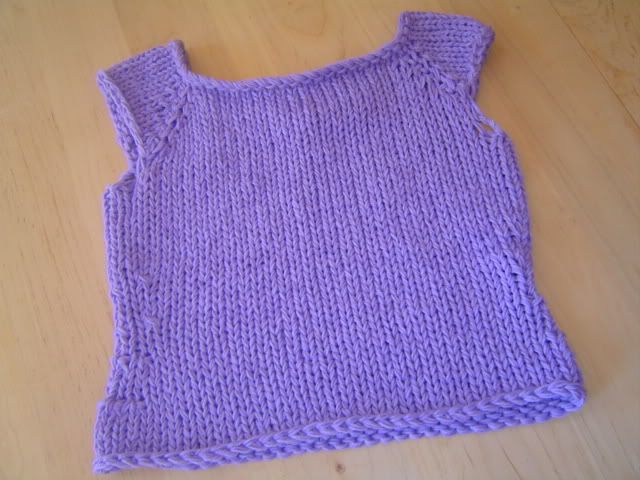 Posted at 7/17/2005 6:35:47 am by Jen
Permalink
Saturday
In which Jenifer is enabled by her enablers, and laughs hysterically.
Okay, here's the enablement story:
My secret pal gave me the
Lotus Blossom shawl pattern
. I swatched for it using the Alpaca in Mist that she gave me: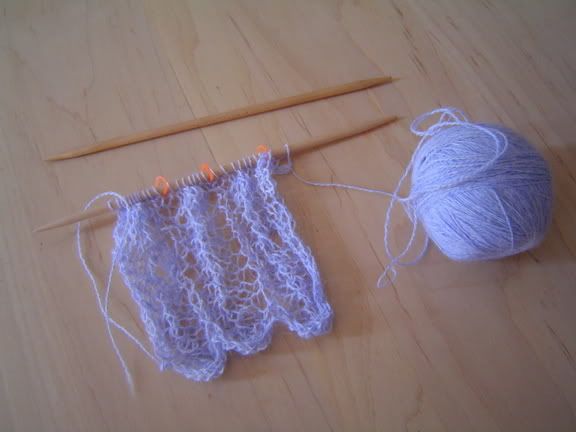 But I'm not crazy about it. I guess I should block it first, but I just don't quite see this shawl in that alpaca. That alpaca is screaming to become one of the Gathering of Lace shawls, I have a feeling. I actually think I might swatch for one of those, and take it on an upcoming road trip ... but that's another story for another entry.
So, instead ...
Remember that
Michelle
and
Kristen
both gifted me some yummy yummy alpaca recently? Made in Colorado at Larkspur Funny Farm?
I decided that I must have more Larkspur Funny Farm, and that it must all become a yummy shawl à la Charlotte's Web variety of colors. Luckily, I brought my kids down to my mom's to spend the night Saturday while the Big Sweetie and I actually had a date to go see
this play
that night. (The play itself was so great -- I just loved it.) Luckily, I was able to swing by a fabulous new yarn store in Denver called
Colorful Yarns
. (The store itself? Good thing it's far, far away from me, or I'd be buying the Textiles A Mano, Cherry Tree Hill, or other various yummy yarns there in an out-of-control way. It was a lovely store.) Joanne left some great
directions
(see April 24) on how to get there if you want to go yourself.
So here's the colorway of my Lotus Blossom Shawl: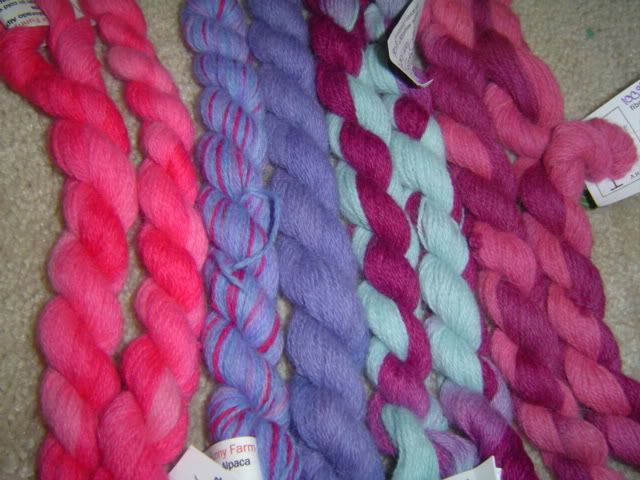 I haven't decided yet if it is going to be from left to right, or right to left. I'm leaning right to left.
Thanks, my yarn-enabling-friends! I mean, isn't it great that three other people have collaborated with me in some form so that I could make this? I just can't get over how great that is. It's destined to be called the "Friendship Shawl."
But that's not what's making me laugh hysterically. Check out the
dialectilizer
if you want ... this is how it's translated my blog into "redneck":
In which Daisyifer gives a quick alert...

ah have a mo' trimenjus blog intry a-comin' later, but ah jest wanted t'give a quick alert t'yo' all out thar in bloglan' thet ah's listin' some yummah Kocho'an listin's on eBay this hyar week. Shet mah mouth!.. check them out har.

Posted at 7/13/2005 10:34:23 is by Daisy

Permalink




Monday

In which Daisyifer finally decides upon a noo blog name, feels inabled by her inablers, an' laughs hysterically

Okay, I've decided on a noo blog name.



ah apologize t'ennyone who reads this hyar blog somewhut regularly t'have subjecked yo' t'mah absolute an' extreme indecishun. Really.

On account o' ah decided t'go fo' a mighty noo, diffrunt name than enny thet had been discussed, cuss it all t' tarnation.

Ready?

But let me also say fust thet ah had a lot of speckashuns thet went into this hyar blog name ... it had t'be sumpin thet ah w'dn't be embarrassed t'say out loud (as in "J is fo' junkie", "Th' F.O. ho," an' even "knittin' at 5337" which was jest awkward). It had t'be sumpin thet was a sho't title, so ah c'd put it on a button, as enny fool kin plainly see. Sumpin thet'dn't necessarily turn into an ill-fated nickname. Sumpin thet'd lend itse'f t'a hansum an' fun banner thet ah c'd does mahse'f. Sumpin thet'd leave open th' opshun of bein' sumpin of a "designer" some day, an' thet'dn't embarrass me "professhunally."
(Etc.)
It just cracks me up! I mean, how is that for a nickname --
Daisyfer
??! In Texan parlance, the name Jenifer is actually pronounced JEAN - ah - fehr.
Still
. (My mom is from Texas after all, so it's more like I'm laughing
with
it rather than
at
it.)
Moving on, I've been a bad blogger.
Lesley
had a little gathering at her house, which was a lot of fun.
Wanda
,
Michaele
,
Shirley
, and
Natalya
all came; and I also had a chance to meet
Tami
(sp?!), and
Anne
, which was really great. I also have a new FO to announce (it was a quickie!), and I'm working on starting the new blog ...
Cast on, cast off
... So that means that any day now I'm going to go live. Keep an eye open for it!
Posted at 7/16/2005 6:13:07 pm by Jen
Permalink
In which there is linkage galore
Okay, for an entry that's all about linkage ...
First off, I came across this
amazing kitchen gadget
. I say we all chip in and get one for Cathi for her next birthday. (Is it December?)
Next, head on over to
Marta's site
, where you can learn to Arm Knit. (That is, knit with your arms. Check it out! Would've ever thunk?)
Then check out how to make your own custom labels for clothing items ... there's a
tutorial
on craftster.org, but also go see our favorite grumpster Kathy's version
here
.
Last, but not least, bookmark my new blog! Cast on, cast off ... is up and running! I even have a new contest for you to enter. :) [Sorry, ladies, I lied. Not quite yet. But soon, soon!]
Posted at 7/16/2005 3:09:20 pm by Jen
Permalink
Wednesday
In which Jenifer gives a quick alert...
I have a bigger blog entry coming later, but I just wanted to give a quick alert to you all out there in blogland that I'm listing some yummy Kochoran listings on eBay this week... check them out
here
.
Posted at 7/13/2005 10:34:23 am by Jen
Permalink
Monday
In which Jenifer finally decides upon a new blog name, feels enabled by her enablers, and laughs hysterically
Okay, I've decided on a new blog name.
I apologize to anyone who reads this blog somewhat regularly to have subjected you to my absolute and extreme indecision. Really.
Because I decided to go for a totally new, different name than any that had been discussed.
Ready?
But let me also say first that I had a lot of expectations that went into this blog name ... it had to be something that I wouldn't be embarrassed to say out loud (as in "J is for junkie", "The F.O. ho," and even "knitting at 5337" which was just awkward). It had to be something that was a short title, so I could put it on a button. Something that wouldn't necessarily turn into an ill-fated nickname. Something that would lend itself to a cute and fun banner that I could do myself. Something that would leave open the option of being something of a "designer" some day, and that wouldn't embarrass me "professionally."
So I nixed "Zen and the Art of Yarn Stash Maintenance" because it was just too long. I love the whole zen thing, even with
Cathi
so cheerfully and cleverly calling me Zenifer, but something about this title just wasn't right.
And I nixed "Alpaca skein and wool knit" because it was A) also too long; and B) a little strange. I mean, several (smart) people didn't quite get it as it's
so
darn clever that it's a little strange.
I last gave just a
little
bit more thought to
Joanne's
suggestion of "Elevated Knitting," as I felt that it wouldn't be such a jump away from my current title, and I could still fit my current elevation into a subtitle. Sorry, Joanne ... it's just not me. Anyone else out there in Colorado want to steal it?
So okay, here it is. The new blog name:
Cast on, cast off
. Subtitle:
Jenifer's knitting dojo
. The subtitle is still a work in progress, however, so we'll see if I rework it a little more.
Why this title? It just seems to fit. Say the title in a Karate Kid voice ... cast on, cast off ... cast on, cast off ... What is
dojo
, you ask? Dojo is a zen term that is the place where martial arts and spiritual arts are practiced and learned; thus, my blog would become my little dojo. And knitting is kind of like a martial arts of its own, right? (Especially when dpns are wielded with a little power, as
Julia
can attest.) And, it fits all of my criteria listed above for a blog name.
I think I'll keep it. (But there's still time to change my mind. I don't think I will, though.)
I'll send some Noro Kochoran love out to some one out there for entering my contest ...
So, I'm going to keep the rest of the entry until tomorrow. Sorry to be a tease ... but tomorrow you'll see, "In which Jenifer is enabled by her enablers, and laughs hysterically." (Photos to come as well. And updates on the knitalongs.)
Posted at 7/11/2005 8:13:20 am by Jen
Permalink
Sunday
In which the mail is checked, and a lovely time is had.
Okay, first things first ...
I went to my mailbox! (For those of you not aware of this obscure fact in my life, my mailbox is at the end of the street, which means that I only check the mail a few times a week. Sorry, secret pal.) Look at what I found in there! Not one, but
two
things from my
secret pal
...
The first is my issue of Interweave Knits, from the subscription that my secret pal sent me. That means all year long, at quarterly installments, I'll be thanking my secret pal. Yea! The second is a package that she sent me (and check out that adorable wrapping paper) ... and look at what's inside!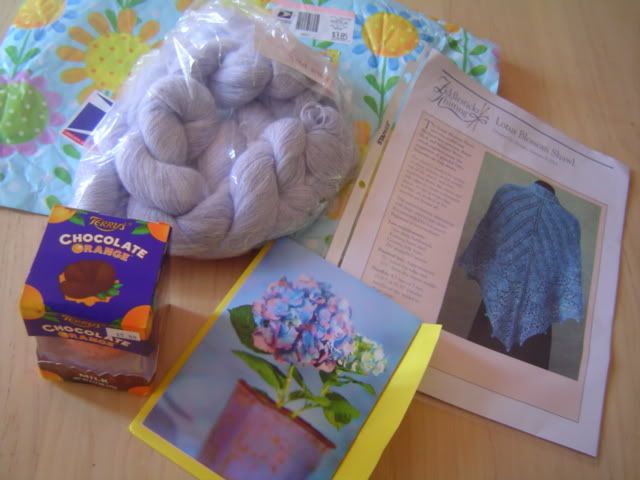 I've been really really coveting the
Lotus Blossom Shawl
pattern from Fiddlesticks for about 6 months, and I just haven't ordered it because I've been trying to reign myself in. (The constant battle here, if you recall.) So, yea!! But, that's not it, because she also sent me the most amazing alpaca from Knitpicks, which I've also been coveting but not yet ordered, which is so exciting. Mist blue. Yes, three skeins. Plus a chocolate orange. (No, I'm not sharing with my kids.) Plus a beautifully matching card.
I can share that I haven't been able to keep my hands off this pattern, and it's already going to be a part of the next blog entry ... something to do with yarn-enabling-friends and now yarn-enabling-secret-pals. We'll all see tomorrow.
Thanks so much, secret pal!! (I'm sorry I'm not emailing you to repeat this, but I deleted your address by accident.) Merci, gracias, obrigata, grazie, and on and on!!
(Yea for me that I have such a cool secret pal.)
Next, I made it to the knitty professor's house on Friday evening for a little knitting get together. If you are in the area, go sign up for the
yahoo group
and come! The entire time was lovely, and I always enjoy going to Michaele's house. (Okay, I've only been there twice, but it's been really lovely each time.) I'd show you the requisite photos, which I swear that I actually took this time rather than steal shamelessly from
someone else's
blog, but mine turned out terribly.
Again, it was just lovely.
I have more to blog about, but that will come in tomorrow's entry, entitled, "In which Jenifer finally decides upon a new blog name, feels enabled by her enablers, and laughs hysterically."
You're not going to believe (or guess!) what I finally chose for a new blog title! ...
Posted at 7/10/2005 1:54:35 pm by Jen
Permalink
Friday
FO Report: OSWs #2 and #3
FO Report:
The OSW, or One Skein Wonder, versions #2 and #3

Designer:
Stefanie Japel

Pattern Source:
Pattern available right here (and note the errata here)
Yarn:
Noro Kochoran, colors #34 and #32
Needle Size:
US 9, 6

Gauge:
16 sts = 4"

Date Completed:
July 2005
Recipient:
my friend and me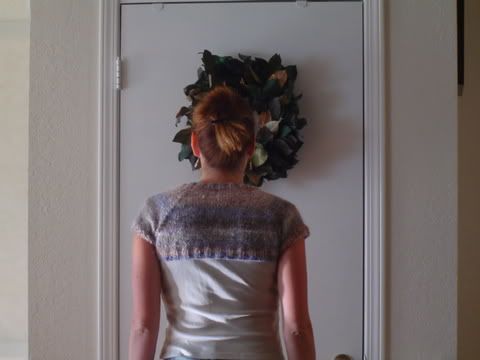 Well, I've gone and done it again. And again. I made couple more. Both are in Noro Kochoran, which I think I'll call henceforth
Yarn of the Gods
. Really, I just love this stuff. Both were made with one skein of Kochoran, making these truly One Skein Wonders (notice that many people's OSWs really take two skeins).
This one, OSW #2, is destined for a friend who is pregnant. Don't you think this is the perfect little pregnant cover-up?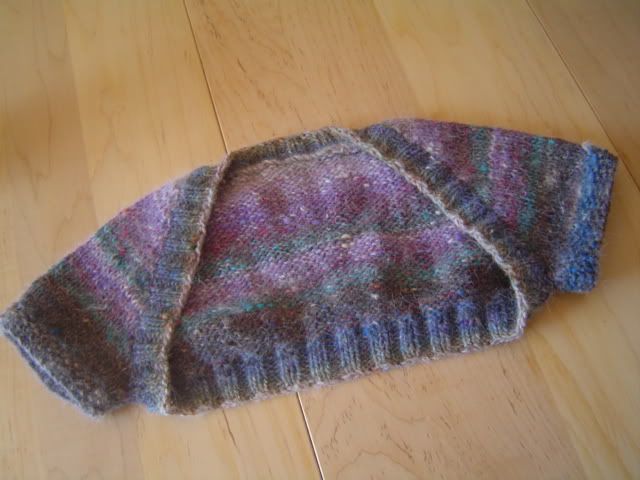 The colorway is #34, which I see has been discontinued now. I made it the 14" size (which was very tight and barely fit me) -- perfect for my friend who is more petite than me.
The next one, OSW #3, is destined for me.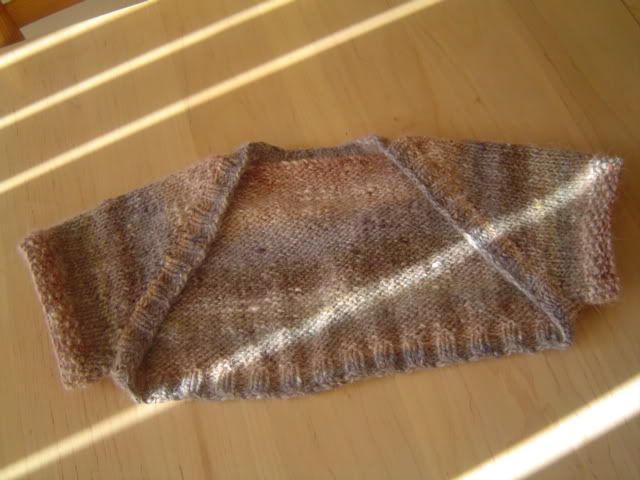 Because I have an absolute compulsion to make something in every Noro yarn, in every colorway. (This is colorway #32, not yet discontinued -- phew). And I'd already wound the yarn ... so I couldn't sell it, right?? (A Noro compulsion is a terrible thing.) This was the 15" size, because the 16" size in my Silk Garden version ended up stretching and becoming a little large. For now, it's rather tight ... so we'll see if it stretches as well. But I think it'll work.
(Yea for compulsions.)
In other knitting content, I'm continuing to be indecisive about the blog-title-change. I'm actually thinking of switching my blog, but keeping the title. I could always change it later, right?
But if I do still change it, here's the update:
I've thrown out J is for Junkie. Nobody really likes it much,
Cate
pointed out that I'll get all kinds of wierd search hits, and the Big Sweetie never liked it as well.
In addition to still considering Zen and the Art of Yarn Stash Maintenance, and Alpaca skein and wool knit (Yes, say it like "I'll pack a skein and we'll knit" if it's confusing to you); let me throw in a couple more:
#5. The FO ho.
Lauren
suggested this as a title, and I think it's pretty darn cute. And short. And sweet. (Not necessarily reflecting my method of prose, but still. One can aspire to certain things.)
#6. Knit one, Purl two, Knitting fans, yoo hoo
. I have to add this in because it was one more of the Big Sweetie's contributions. (Say it in a goofy Hahvahd accent if you must.) I don't think I'd choose this, but I just wanted a permanent reference to one more clever idea by the Big Sweetie.
So, what do you think?
Keep the title, or change? And change to
#2
,
#3
, or
#5
? Thanks.
Posted at 7/8/2005 8:49:25 am by Jen
Permalink
Thursday
In which Jenifer is indecisive...
(... no big surprise to anyone who knows me.)
I've completed another One Skein Wonder for the jeweler-belly button ring maker-friend-who-is-pregnant in ... hold your breath ... Noro Kochoran, which possibly means
Yarn of the Gods
in Japanese. (Versus
Kureyon
, which is the Japanese pronunciation for
crayon
.) No FO Report, because I'm on the heels of
another one
in
another colorway
of Noro Kochoran. I figured I might as well FO them at the same time.
(The knitting pals who were at my house last week are reading this and saying, "But you should really sell it, like you said you needed to, Jenifer." My response: "Noro addicts like myself don't always understand reason." But I promise that I'll sell some soon and let you all know about it in case you want in on the action.)
Can I share, however, that Noro Kochoran is the perfect skein for the One Skein Wonder ... plenty of yardage ... not too expensive ... did I mention
Yarn of the Gods
?
Back to my indecisiveness.
I can't decide on a new blog name, and this is the week to do it. Do you want to help me? Here are the choices:
#1:
J is for Junkie
(yarn junkie, that is.)
This was mostly my idea, though someone's comment pointed me in this direction. I just like it ... it has a cute name, my initial (of course), it accurately describes my yarn junkieness... and it sort of reminds me of "Bond, James Bond," for some reason. For the banner, I think that I'd either knit up a little banner of J's or something like that, or some other "J" inspired knitted something. Maybe spell out J and Junkie with yarn. This idea definitely lends itself to a button, as well.
#2:
alpaca skein and wool knit

This was the Big Sweetie's contribution. Isn't he so clever?? I love it because he contributed it, and because it's so darn clever. Really, much more clever than my ideas (reference idea #1). I can't really think of an adequate subtitle here. For the banner, I'd maybe show me, or a silhouette of me, tiptoeing across with a suitcase. I don't know why, but that just cracks me up, and it sort of reminds me of carrying enormous bags of stuff to knitting friends' homes to knit. A button? Maybe not as easy to make ... I guess my nickname would become "alpaca skein", which is odd but also okay.
#3:
Zen and the Art of Stash Maintenance

This was the Big Sweetie's contribution as well. Again, isn't he so clever? I'm not sure if I'd say "Stash" or "Yarn Stash". However, I love it because it really accurately describes the state of my stash in my house ... I'm always moving it from here to there, always trying to whittle it down, always figuring out where to put it next. Leave it all out, or hide it away? Use it all up, or buy more? (The latter generally wins out here.) Plus, I love the Zen reference here. And of course the take-off of
Zen and the Art of Motorcycle Maintenance
is great. I can't think of an adequate subtitle here, unless I did another take-off on "An Inquiry into Values," (the original subtitle) for something like "An Inquiry into Addictions/yarn sales/ the mind of a knitter." Any ideas there? The Banner? Not so sure either. All that I can think of is the very uncreative idea of a big pile of yarn, or yarn in a basket ... Hmmm. And then for a button ... who would I become, Ms. Zen? But I do love the title.
#4
The Adventures of a Knitter Errant
(En un lugar en la manga...)
This is an honorary mention, as I've already decided that it's too obscure, too masculine, too specific for me, but it's a great idea and it deserves its few lines of print here. This is obviously a take-off on Don Quijote, the knight errant of La Mancha, who zanily goes around completely obsessed with his own reality and subjecting others' reality to his own. Most people familiar with Spanish know that the first line of the Quijote is "En un lugar en la Mancha ..." or "In a place in the Mancha ..." .
Urraca
suggested the substitutuion of "la manga", and I think it's brilliant, as "la manga" means sleeve in Spanish. Just brilliant. One could feasibly edit the famous drawing by Picasso of Don Quijote and put in a few knitting needles, possibly a sweater, and a trailing ball of yarn. Just an idea if anyone wants to steal it.
So, that's that. Any ideas? Let's see if I can make a poll work here:
Thanks!
Posted at 7/7/2005 8:46:09 am by Jen
Permalink